Calmview Charolais Sires

Viewing page 1 of 2
---
Charnelle Harry - Polled Red Factor GKAH20E
Harry was purchased to introduce new genetics to our herd. His temperament, feet and length were of most importanace in selecting him as one of our new stud sires. It's hard to get muscle and fat in the top 10% but Harry does just that.
View EBVs and Pedigree for Charnelle Harry GKAH20E
---
Calmview Hansel - Polled Red Factor CVWH27E
Calmview Hansel, CVWH27E, is a red factor polled 2 1/2 year old bull. He's had a successful show career with genetics at the top end of the Charolais breed. His EBVs support this.
View EBVs and Pedigee for Calmview Hansel CVWH27E
---
Palgrove Hydro - Polled PKH8E
Palgrove Hydro was introduced to our herd to be a game changer. His dam is one of Palgroves best breeding cows with 7 sons working in studs across Australia. Hydro has awesome EBVs that pack punch and indicate he is a powerful breeding stud sire.
View EBVs and Pedigree for Palgrove Hydro PKH8E
---
Fernvale Bulls Eye FENB39E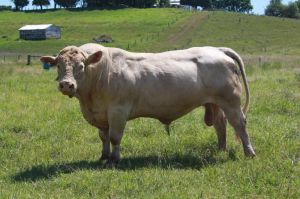 Fernvale Bulls Eye was purchased in 2008 at Fernvales Simple the Best sale. And Bulls Eye is just that, simply the best. True to Tom and Annes word hes as long as a Central Queensland coal train and has exceptional weight gain. His family tree is packed full of maternal genetics on both sides from some of the top animals in the Charolais breed.
Bulls Eye has top 1% milk EBV and together with his structural correctness this makes him an exceptional Sire in our herd.
Moderate framed
Early maturing
Polled
Low Birth Weight
Tremendous growth
Some of the best EBVs in the Charolais breed
Trait Leader for Birth Weight 200, 400, 600 & Scrotal Size
Milk of +12 (top 1%)
Semen available for purchase
SEE EBV'S & PEDIGREE FOR Fernvale Bulls Eye FENB39E
---